December 9, 2008
Not everyone is worried about America's financial predicament – yet – but uncertainty alone seems to have motivated some changes in holiday patterns.
According to a survey of more than 1,600 Crosswalk.com users, more than 87 percent have trimmed their Christmas budgets in some way, and 30 percent have cut or eliminated their offerings to their churches.
Although 63 percent said they are still giving the same amount, more than half of pastors have seen their church's end-of-year giving – which normally spikes with good will – abnormally decrease.
The drop in giving is more obvious when added to the fact that 41 percent of churches have seen a slight increase in church attendance. So while more seats may be filled, the offering plate is getting lighter.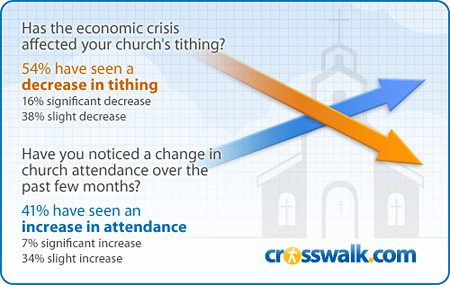 Pastor Gene Emerson of Kingsway Community Church in Richmond, Va., said he is not surprised by the survey results.
"In times of hardship, we are often more aware of our need for God, which is reflected in church attendance," Emerson said.
"A financial downturn which negatively impacts personal income will naturally be reflected in the tithes of regular attenders. And guests who are responding to economic hardship will not usually be inclined to give until their hearts are impacted by the power of the Gospel."
Still, this decrease means that some churches have had to cut back on their holiday assistance to those in need. The survey found that 26 percent of churches can't help people in need as they have in the past.
Many churches predict this new giving trend will follow them into the church's internal workings. Of those surveyed, 48 percent of churches have or will face staff issues. Twelve percent have put hiring on hold, 12 percent have implemented raise freezes, and 24 percent foresee adjustments being needed soon. Nonetheless, 24 percent of churches said they have continued to grow.
Precaution in Personal Finances

The cuts in Christmas spending and church offering, however, seem to stem from precaution rather than panic.
About one-third of those surveyed rated themselves as worried about their personal finances (31 percent), while another 39 percent said they were only somewhat worried. An additional 30 percent said they were not worried at all.
Nonetheless, people feel far more confident about their personal situation than they feel about economy overall. A scant nine percent said they feel better about the economy today than a month ago, while 41 percent feel the situation has gotten worse. Fully half of those surveyed said they feel the same as they did a month ago.
These larger concerns about the economy have motivated 23 percent to job search "just in case" they are laid off work. Another 22 percent said they are at least somewhat worried about the possibility of losing their jobs. Forty-five percent, however, still feel no need to worry.
No Faith in Government
Overall, those surveyed displayed greater misgivings about government intervention than the current state of the fragile economy.
The majority of those surveyed (46 percent) expect the federal bailout to impact the economy for the worse, and another 25 percent expect it to make no different. Under one-third (29 percent) expect federal funds to help the economy recover lost ground.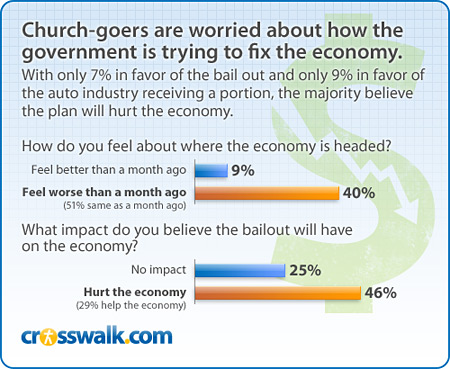 Even those who expect the bailout to rejuvenate markets have little faith that it will trickle down to them. Nine out of ten of people think the bailout will either hurt their personal finances or have no impact at all.
Federal bailouts appear even more unpopular among Crosswalk.com users than the general public. Only 7 percent supported the $750 billion package passed in October.
Now that the bailout package has passed, 69 percent of those surveyed said they don't want any of those funds going to automakers, and only 9 percent were solidly in favor of helping the Big Three.
Editor's Note:
This survey was sent by email to Crosswalk.com subscribers and was not an online poll. Participants included in this survey were chosen randomly and proportionally from a pool of subscribers with verified geographic data from all 50 states. Based on the sampling method and sample size, the estimated margin of error is +/- 1.9%.